Don't get me wrong… I have well over 10,000 photos in my cloud storage. I love how easily accessible they are. I love being able to show off my kiddos at any moment. One-click, share to family, or one of my social accounts. One thing I like about Facebook is the "Memories" notification. I see photos that I haven't seen in a while. Posts that still make me laugh and those that make me really question my sanity at that time. Sometimes I'll just scroll to take me back to some of my happiest moments. They're so easy to access and easier to forget.
One thing I loved about going to my grandmother's house was looking through all her photo albums. Seeing family that I would never know and old memories of my immediate family. It's something about being able to hold the prints that make me connect more with them. These books have been passed down to the family, to continue to accumulate our family over the generations. Writing this mays me think of the movie Coco, everything about being remembered and having memories passed down about those that can't be with us anymore.
Can you imagine 50 years from now and prints are rarely seen… Facebook passwords are forgotten, and all our precious memories are forgotten in the cloud or a lost phone. Prints are a tangible memory that welcomes me when I walk into my house and most of my family houses. Pictured is my mom's gallery wall that she just redid for maybe the third time lol. Love you, Mommy. But doesn't it look amazing? I love going to her house and looking at the different pictures, all the family members and friends. Mostly I love adding to the wall. After Luke joined us. We had to make room on her wall for him, and that she did!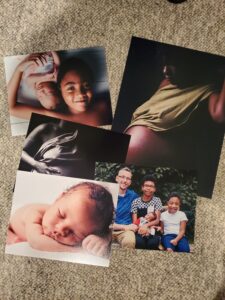 Now lets talk about a 'good' print… It's NOT anything you get from a drug store, Walmart, Sam's, Etc. I promise I'm not a snob, I just know some places are meant for certain things, and 'good' prints never favor these places. A great printing place uses quality ink AND paper that's meant to least. Yes, they are usually more than what you would get at a drugstore, but the QUALITY…. the quality is what you pay for. There are plenty of quality consumer based companies that you can order from and HINT HINT… buy from your photographer (#support local, #supportsmallbusinesses). As a photographer, I have access to some pretty amazing products. Prints, albums, canvases, keychains, buttons, cards, shirts, the list goes on, that are made with quality in mind.
Let's work together and start making memories last. Book a session and take a chance on the amazing size of good prints!